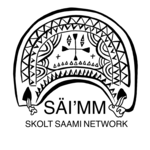 Sää'mmkino Jokkmokk Skolt Saami Cinema 12th of May

Welcome to our filmscreening event

Thursday 12th of May 13:00-15:30

.
Sää'mmkino is a film event showing Skolt Saami films, short films and documentaries. Behind the Sää'mmkino concept is the Skolt Saami Culture Foundation, whose task is to take care of the vitality of the Skolt Saami culture and the Skolt Saami language. The foundation strives to ensure the continuous development of Skolt Saami culture and the preservation of the language for future generations.
"Sää'mmkino in Jokkmokk" is produced together with Ájtte and Ä'vv Skolt Saami Museum, within the project Säi'mm Skolt Saami Network.
Supported by Nordic Council of Ministers.
Program:
13.00-14.00
'Maaddâr ääkk Šaamšiǩ– Oldemors lue'
14.00 – 14.15
Break
14.15 – 15.00
Short films
15.00 – 15.30
Discussion
List of films and short descriptions:
Kaissi-U'lljan-Mä'rjj-U'lljan – Heidi Gauriloff
A short documentary on Heidi Gauriloff, a Skolt Saami craftsmaker, who was already an adult when she finally got the chance to learn the Skolt Saami language and culture of her Skolt Saami family.
Director: Aleksi Ahlakorpi
Producer: Erkki Feodoroff, Sogsakk
Subtitles: Skolt Saame, Finnish, English
9 min
2016
Vue'ddin njõđđum võõnâs – Revitalizing a traditional Skolt Saami root-sewn boat
The construction of a traditional Skolt Saami root-sewn boat was was made in collaboration of Sámi Museum Siida and the Sámi Education Institute. Project started in Fall 2014. Boat was inaugurated in August 2016 in Sevettijärvi.
The boat is based on a model from Petsamo from the early 20th century, and made by sewing planks together with roots instead of metal nails. Building the boat was a community effort of remembering, as many things had to be pieced together from archives, experientially, and through stories.
Video: Joonas Saari, Tomi Rantanen, Olli Järvenkylä
Producer: Sámi Museum Siida
6:25
2016
Äkk, Jaakko Gauriloff
Music video celebrates Skolt Saami mothers on a Mother's Day.
Šiõǥǥ jieʹnnipeeiʹv – Happy Mother's Day!
Music: Jaakko Gauriloff
Video: Skolt Saami Cultural Foundation
4 min
2017
Skaidd: Sild
Music video.
Composition: Niki Rasmus
Lyrics: Heidi Gauriloff
Producer: Sogsakk
4:50
2021
Õõutveäkka, Together, Doing Together
70-year anniversary ceremony of resettlement of the Skolt Saami.
24.8.2019 in Sevettijärvi village, Finland.
The anniversary of resettlement of the Skolt Saami is celebrated in every ten years. The first celebration was held in 1979.
Video: Ville Fofonoff
Producer: Skolt Saami Cultural Foundation
12:40
2019
Maaddâr ääkk šaamšiǩ – Oldermors lue
Med de Norske myndighetenes hjelp har man nesten klart å utrydde den skolte samiske kulturen i Norge, MEN ikke alt.
Venke Tørmænen i fra Pasvik er skoltesame, og kvinne lua i hennes kultur er et av de sterkeste symbolene for tilhørighet til den delen av samisk kultur.
Og den skolte samiske kvinne lua «ŠAAMŠIǨ» blir symbolet til filmens reise både i nåtid og historien til Skolte samene på Norsk side.
Film: Harry Johansen, Anstein Mikkelsen
2021
50 min